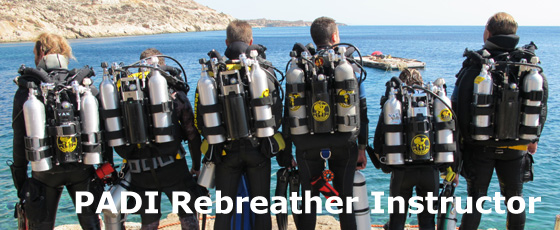 PADI Rebreather Instructor
The PADI Rebreather Instructor is the course for you who want to take the big step and start teaching rebreather divers. After the course, you will be authorized to certify recreational rebreather divers(PADI Rebreather Diver and PADI Advanced Rebreather Diver) on the Poseidon MkVI or the Poseidon Se7en.
The course contains a theoretical part where you will learn to apply your skills as an instructor in rebreather training, you will also be assessed on your theoretical skills and your presentation techniques. This is followed by practical training in the pool and in the open water and finally an assessment of your skills and teaching techniques in the water.
To be certified as a PADI Rebreather, you also need to complete an approved internship on at least one complete rebreather course.
In order for you to start the course, in addition to meeting the requirements, it is also required that we consider you suitable to become a Rebreather instructor.
Prerequisites:
PADI Open Water Scuba Instructor (PADI MSDT highly recommended)
PADI Enriched Instructor
PADI Deep Diver Instructor
PADI Advanced Rebreather Diver
Have at least 150 logged dives
Have at least 75 dives on a rebreatherr
Have at least 50 dives and 50 hours on Poseidon Se7en or MkVI
At least 18 years old
Equipment Requirements:
All equipment must be configured in an exemplary manner for rebreather diving
Price:
You will find the price for the course in our Course Catalog
Contact our Rebreather Instructor Trainer Anders Bergman for more information.