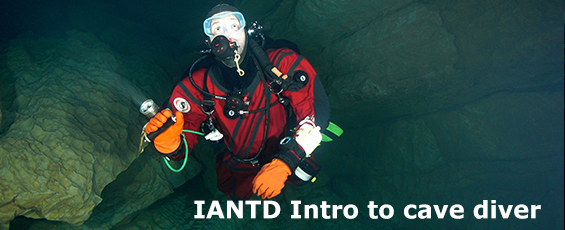 Intro to Cave – kursen fokuserar på de tekniker och färdigheter som krävs för att dyka i grottsystem bortom dagsljuszonen. Dina färdigheter kommer att utvecklas rejält under tiden du utforskar mer och mer av grottsystemen. Som certifierad Intro to Cave – dykare får du följa main line i grottor inom säkra gränser för ditt gasförråd.
Kursen innehåller teori samt sex stycken dyk med minst 100 minuters (160 minuter om du gör kursen med rebreather) bottentid. Om du redan är certifierad som Cavern Diver innehåller kursen fyra dyk.
Intro to Cave kan genomföras antingen på OC(backmount eller sidemount) eller på CCR. Vilket leder till att du antingen blir certifierad som Introductory Cave Diver eller Rebreather Introductory Cave Diver.
Förkrav:
PADI Advanced Open Water Diver eller motsvarande
TDI Cavern Diver (om man inte kombinerar båda kurserna) eller motsvarande
50 loggade dyk
15 år gammal
Bra avvägning och flytkraftskontroll
Förkrav (Rebreather):
PADI Tec CCR 40 eller motsvarande
Minst 36 loggade dyk och minst 25 dyk på rebreathern du använder på kursen
18 år gammal
Bra avvägning och flytkraftskontroll

Utrustningskrav (OC):
Full utrustning för teknisk dykning(Backmount eller Sidemount)
En primär lampa
Två backuplampor
Primär och sekundär linrulle
Linpilar och cookies
Utrustningskrav (för CCR):
En av följande rebreathers (anpassade för teknisk dykning)
AP Inspiration
VMS Sentinel
Poseidon
JJ CCR
DiveRite O2ptima
Full utrustning för teknisk rebreather dykning
Bailoutflaskor och regulatorer
En primär lampa
Två backuplampor
Primär och sekundär linrulle
Linpilar och cookies
Pris:
Du hittar priset för kursen i vår Utbildningskatalog