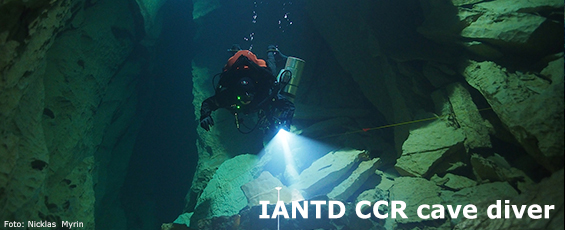 IANTD CCR Cave Diver – kursen ser lite olika ut beroende på vad du har för tidigare utbildning, om du till exempel är certifierad som Intro to Cave på rebreather eller om du är certifierad som IANTD Full Cave Diver på OC tidigare.
Kursen innehåller 6 stycken dyk och minst 360 minuter under vattnet (12 stycken dyk och 600 minuter om du inte är certifierad som Intro to Cave Diver).
På kursen får du bland annat lära dig tekniker för komplex navigation i grottor, att hantera nödsituationer i grottor och om du går Technical Cave programmet hur du dekar i grottmilljö.
Förkrav (om du har Intro to Cave cert på rebreather):
PADI Tec CCR 40 eller motsvarande på rebreathern du använder på kursen
IANTD Intro to Cave Diver på rebreather
Minst 50 loggade dyk med rebreather.
18 år gammal
Bra avvägning och flytkraftskontroll
Förkrav (för komplett kurs inkl. Cavern och Intro to cave):
PADI Tec CCR 40 eller motsvarande på rebreathern du använder på kursen
IANTD Intro to Cave Diver på rebreather
Minst 100 loggade dyk med rebreather.
18 år gammal
Bra avvägning och flytkraftskontroll

Utrustningskrav:
En av följande rebreathers (anpassade för teknisk dykning)
AP Inspiration
VMS Sentinel
Poseidon
JJ CCR
DiveRite O2ptima

Full utrustning för teknisk rebreather dykning
En primär lampa
Två backuplampor
Primär och sekundär linrulle
Linpilar och cookies
Pris:
Du hittar priset för kursen i vår Utbildningskatalog