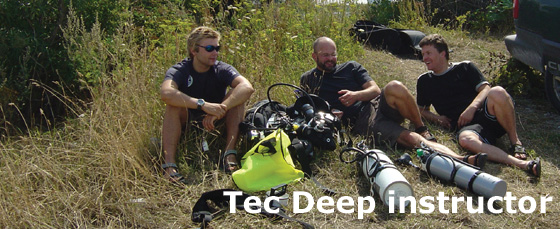 Tec Deep Instructor
As a Tec Deep Instructor, you will belong to the exclusive group that can hold the courses Tec 40, Tec 45 and Tec 50. During the training you will learn how to teach diving down to 50 meters with unlimited decompression. The Tec Deep Instructor course is usually conducted in connection with our regular Tec courses.
Prerequisites:
• PADI Master scuba diver Trainer
• PADI Enriched Instructor
• PADI Deep Diver Instructor
• PADI Tec 50 diver
• Have at least 270 logged dives
• Have at least 20 logged nitrox dives
• Have at least 25 logged decompression dives deeper than 40 meters
• Have certified at least 10 Depths or Nitrox Diver (combined)
• At least 18 years old
Course content:
The course contains three parts, in the first part your skills are checked and evaluated, the second part is the course itself with theory and presentations (ie a similar approach as at an IDC but adapted for technical diving) and the third part is internship on a course (ie you must participate in at least one complete course)
Equipment requirements:
All equipment must be configured in an exemplary manner for technical diving

Twin set with manifold and isolation.
Two regulators, one with a longhose and one with a manometer.
Backplate, harness and wing with sufficient buoyancy, preferably stainless steel backplate.
2 SMB, preferably one red and one yellow.
2 cutting tools
At least one line reel and at least one with enough line to release the bag from maximum depth.
2 dive computers suitable for technical diving (or 2 time and 2 depth gauges).
Wetotes
Extra mask.
2 deco cylinders with regulator and manometer approved for 100% oxygen.
1 main light with battery pack and at least 1 backup light.
Price:
You will find the price for the course in our Course Catalog
Contact our Tec Deep Instructor Trainer Anders Bergman for more information.