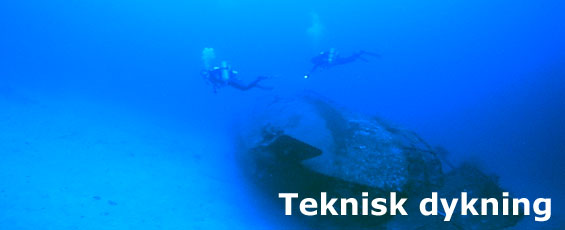 Completing a technical diving course might be the most demanding thing you have ever undertaken in your career as a diver, but perhaps also the most rewarding. The courses teach the techniques and procedures necessary to safely dive outside the boundaries of traditional scuba diving. If you are willing to accept the increased risks and train hard, the most amazing adventures you have ever experienced await you.

When you choose a diving center for your education, you should also look beyond the actual course to when you will use your newly acquired skills. In addition to an established training system, experienced and qualified instructors, you are also looking for exciting excursions, trips to colder and warmer latitudes and divers to dive with. H2O Lund can offer all this! Our instructors are active wrecks and cave divers with great passion and broad experience. We are an active group of members who regularly go out and explore the wrecks of the Baltic Sea and every year longer trips are arranged, for example to Norways exciting dive sites and the Red Seas slightly deeper wrecks.

Our Tec courses provide the techiques and procedures necessary for diving outside the boundaries of normal recreational diving. These are some of the most intensive but at the same time some of the most exciting courses you will find.

Technical diving is not for everyone, but if this type of diving appeals to you and you are willing to accept the risks, responsibilities and obligations, you can have some of the most rewarding diving experiences ever.

Are you ready for one of your biggest challenges? Do you want to dive inside huge wrecks and places where few or no one has gone before? Contact us and we will plan your way together!

We can offer complete range of programs for training in technical diving from both PADI and TDI.